Healthy Salad Bars!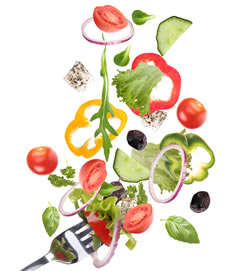 Our Food and Nutrition Services Department is proud to share the success of our healthy salad bar at Hadley Junior High. Students have shown that when offered multiple fruit and vegetable choices, they respond by trying new items, incorporating greater variety into their diets, and increasing their daily consumption of fruits and vegetables.
Hadley Junior High's Salad Bar was received from the Let's Move Salad Bar's to Schools Grant in 2014. The full size salad bar allows students to create their own salads or create the custom salad we have as our daily feature. These custom salads include a Julienne, Vegetarian, Grilled Chicken, Chicken Apple Spinach, and a Southwest Salad.
There are many benefits of salad bars in schools, and they extend beyond the healthy foods consumed during the breakfast or lunch hour. Increased daily access to a variety of fruits and vegetables provides a personal experience about choices that can shape behavior far beyond the school lunch line. Children learn to make decisions that carry over outside of school, providing a platform for a lifetime of healthy snack and meal choices.